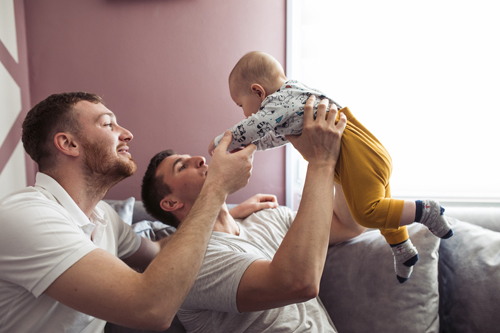 Pursuing gay surrogacy in UK is completely legal. However, one needs to bear in mind the complexity of laws and regulations in the UK in the same context. It is important for intended parents to know that it is illegal to advertise for a surrogate mother and either the surrogate mother cannot market herself for the role.
So, one must consequently connect with numerous social media forums or networks in order to choose a suitable candidate. We Offer an Excellent Database of Surrogate Mothers and Egg Donors.
We offer affordable and ethical surrogacy. As with same sex surrogacy in UK, the cost of surrogacy depends on the type of treatment required and whether this includes IVF, ICSI, or IUI.
This is where connecting with a reputed agency like Become Parents can help you a long way during surrogacy for same sex in UK. While we cannot directly locate a surrogate mother for you given the guidelines of the surrogacy laws, we can make you locate the most suitable candidates with the help of our partner clinics and agencies.
Legal considerations regarding Gay Surrogacy in UK
Intended parents must know that pursuing the gay surrogacy process in UK is completely legal. However, the rules that forbid third parties from arranging surrogacy for payment and that regulate surrogate advertising, on the other side, may make it difficult to find a surrogate mother.
On the other side, a surrogacy agreement of any kind is unenforceable under the eyes of the law and the surrogate mother and her partner are deemed as a legal parent right from the start.
This is where by filing for a parental order, which also ends the rights and obligations of your surrogate mother, the legal status of parenting can be permanently transferred to the intended parents.
If your kid was born outside of the UK, a new British birth certificate recognizing both of you as parents will be produced. Parents who share the same sex are eligible to file a parenting order as of April 6, 2010. However, whether you are a parent or considering acting as a surrogate during surrogacy for same sex in UK, you should be informed of legal parenting and court-ordered custody rules.
Securing child custody may prove to be a little difficult for same-sex parents. Because obtaining a parental order could take months, you should consider your legal rights and obligations while the UK surrogacy process is underway.
As a new parent, you might be concerned about both your employment rights and your regular access to adoption leave. That said; utilize this chance to educate yourself on your legal options.
In the event that either you or your surrogate passes away, you must make plans for your surrogate mother in UK and her family.
Additional legal complexities related to surrogacy for same-sex couples in UK
Finding a surrogate mother isn't an easy task at all. When searching for a surrogate mother, the intended parents may need to put in a lot of effort and devotion. Moreover, regarding same-sex relationships between men and women, one needs to have a detailed understanding of the surrogacy laws in UK. That said, female same-sex partners have the option of paying a surrogate mother to carry their kids.
Co-parenting, also known as intra-partner donation/IVF in some clinics, is another term for carrying one of your biological children if you both desire children. That said, it is not surrogacy if you both want children.
In the UK, surrogacy for female partners of the same sex is not particularly common. Because your surrogate is the kid's legal mother, you must be able to prove your parental relationship once the child is born.
During the process of gay surrogacy in UK, only if one of you supplied the eggs are you eligible to file for a parental order (to be acknowledged as parents) (or, if one or both of you are transgender, that you have provided the sperm).
Surrogacy becomes more challenging when neither of you is the child's biological parent. It necessitates thorough legal preparation. You must speak with our experts if you want to comprehend legal parenting and court-ordered custody in the context of surrogacy for gay couples.
Regardless of whether one of you is a parent, you must follow the same regulations as other couples in the UK seeking surrogacy treatment. If a friend or relative has offered to be your surrogate, your journey, however, becomes a bit easier
In the case of gay surrogacy in UK for couples, you and your partner must agree on the biological father of your kid. Some couples place a heavy focus on having multiple children with each partner serving as the biological parent, while others prefer to have just one child with each spouse serving as the biological parent.
But Same sex surrogacy in UK is easier, unlike other countries without an established legal framework, which makes it riskier.
When looking for a gestational surrogate mother, you have two options: either choose a conventional surrogate who will both contribute eggs and bear your kid or have a surrogacy agency in UK produce embryos from donated eggs. Both strategies should be weighed against your needs and financial position.
Why choose Become Parents?
Going for gay surrogacy in UK is quite a stressful and daunting task altogether. As a result, you require the best experts to assist and support you at every point in time. Talking of the best, our professionals at Become parents will be at your service during every step of your surrogacy journey in the country.
To make things even easier for you, we've partnered with some of the top IVF clinics and egg/sperm donor organizations. So, what are you waiting for, contact one of our client coordinators right away for a free consultation!